STEWARDSHIP
THE BIBLE COMPARES THE CHRISTIAN LIFE TO A SPIRITUAL FOOT RACE!
"In sports there are championship games, tournaments , and finals where the winners win rewards. But they cannot be compared to the biggest sporting event of the world, the Olympic Games, and winning the gold medals, or even the silver or bronze medals. It is the same in Christian service; there are times when God will reward us for being faithful to Him – with answered prayers or things that we want or spiritual blessings – and there are times when people will reward us.
But none of this is compared to the rewards of the gold crowns we will receive at the closing ceremony in the sky, at the closing of the most enormous and longest competition the world has ever seen – the Christian Olympics.
This is God's way of encouraging us to keep running in the Christian Olympics, being faithful in our service to Him until we reach the finish line. In the Olympic Games, only the finishers that finish first, or are the fastest or the strongest, who jump the highest, or have the highest scores win the gold medals. But in the Christian Olympics all finishers will receive gold crowns. All we have to do is just faithfully finish our race, just faithfully finish the course God has given to us, and we will be crowned with gold."
("The Christian Olympics-Going for the Gold Crowns",Chapter 7, The Closing and Rewards Ceremonies :page 135, paragraphs 2 & 3)
CHRISTIANS ARE MARATHON RUNNERS IN A SPIRITUAL ATHLETIC COMPETITION !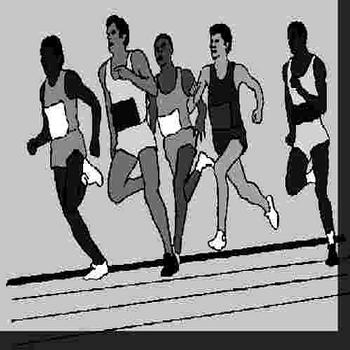 "WHEREFORE,SEEING WE ALSO ARE COMPASSED ABOUT WITH SO GREAT A CLOUD OF WITNESSES,LET US LAY ASIDE EVERY WEIGHT, AND THE SIN WHICH DOTH SO EASILY BESET US, AND LET US RUN WITH PATIENCE THE RACE THAT IS SET BEFORE US,LOOKING UNTO JESUS THE AUTHOR AND FINISHER OF OUR FAITH;..."
( HEBREWS 12:1-2,KJV)
WHEN WE FINISH THE RACE WE WILL BE REWARDED!
"AND, BEHOLD, I COME QUICKLY; AND MY REWARD IS WITH ME, TO GIVE EVERY MAN ACCORDING AS HIS WORK SHALL BE." (REVELATION 22:12,KJV)
THE RAPTURE WILL END THE CHRISTIAN OLYMPICS.